---
Features to suit your needs
done
Run live-streaming classes via Zoom or Facebook Live, or sell pre-recorded classes
done
For pre-recorded classes, you can host them anywhere you like - Vimeo, your own site, etc
done
Sell an accompanying craft box if you like, and deliver an end-to-end experience
done
Take bookings for scheduled public dates, and/or private group bookings
done
Teach whenever and wherever you like
done
Take bookings for scheduled public dates, and/or private group bookings
done
Use "Requests" to capture more group bookings. Just nominate times when you're available in a typical week, and customers can then easily request from these
done
Use "Invites" to easily capture custom bookings without all the admin work
done
Sell DIY craft kits, with or without an accompanying video
done
Use our courier or bring your own. Our courier is fully integrated, so everything is automated for you, from label creation, to tracking communications, and pickup or drop-off requests
done
Use our flexible ticket pricing options and add-ons to easily capture custom information and sell variants on your products
done
Easily capture custom info with bookings, such as age, emergency contacts, allergies and more
done
Use our roll-call system to easily track attendance
done
Attract and convert individual and/or group bookings (e.g. kids parties) with our Requests and integrated custom invoicing features
done
Capture bookings upfront, and reduce your cancellation rates
done
Offer in-person experiences, or send it to them in a box. You can use our fully automated logistics solution, or your own courier
done
Easily capture individual and/or group bookings (e.g. parties)
done
Capture bookings and gift card sales from your own website, with our widgets. Show your branding whilst harnessing ClassBento's powerful booking engine
done
Take customers to your beautiful listing pages on ClassBento, or capture the booking on your website - the choice is yours
done
Customise your widget easily, from styling to what classes are listed
done
Automatically capture email subscribers and push them to popular email providers / CRMs like Mailchimp
done
You literally just need to copy and paste some iFrame code to your website. If you need help, we can even do it for you
done
3.9% fee (no additional fixed ฿ fee per order, and no other fees). Discounts apply if your widget revenue exceeds over ฿300,000 per month.
Learn more about our features
We accept all popular payment methods
Our features, in more detail
Requests
Easily attract and capture more bookings for custom times - e.g. group bookings like hens, birthdays and corporates
Let students pick from your generally available hours; you'll get notified and can accept or decline each request. They'll then automatically get a unique link to book it in.
Custom events
Easily invite students to book any of your classes, at any price, date, and location.
Customise as much as you need to capture the booking - e.g. take a deposit and automatically charge the remainder later.
We'll generate invoices too if you need them.
Beautiful class pages
We'll show your class to its fullest potential.
Feature 10+ class images, video, and include your Instagram feed.
We'll automatically request and incentivise reviews, so you'll accumulate more reviews, faster.
Take advantage of our fast load speeds and mobile-friendly design.
Get bookings from your website
If you have your own website, include our widget there to capture bookings and requests via ClassBento.
We're happy to take a lower commission on bookings that come from your website.
If you have lots of classes, we can automatically pull the data over to ClassBento and keep them in sync.
It's really easy and fast to set up, and we can do it for you. Learn more
---
Our teachers come from a variety of backgrounds. From large restaurant/bar groups like Salt Meats Cheese and Meat District Co, to local florists and bakers, to individuals who enjoy their hobby as a side hustle, we're here to empower you.


---
Teacher testimonials
play_circle_filled
ClassBento has been featured on
---
What we're about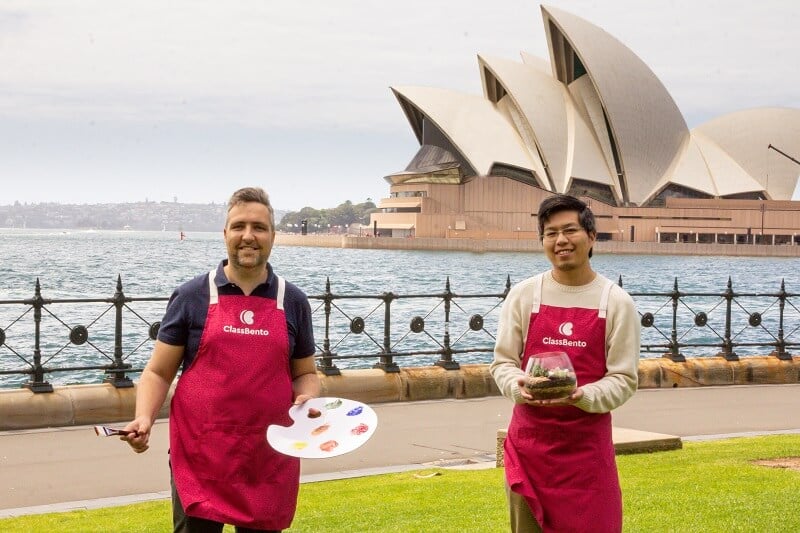 ClassBento's co-founders,
John
and
Iain
(pictured), are passionate about:
Promoting better mental health: Creative classes are a great way to achieve mindfulness in today's "always-on" society - we can use this to fight dementia and burnout.
Promoting the arts: Our communities have many hidden talents, just waiting to be discovered. Our arts and crafts should be fun to engage with, accessible, and affordable, not just locked up in galleries. Creative workshops are a great way to make this happen.
We'd love to have you join our mission.
---
It's easy to get started
Sign up online
Create a profile, then list a class or kit (or more). It won't take you more than 10 minutes.
We'll review to ensure that you meet our quality standards, and we'll also help you to tweak the it for SEO. Then your class(es) / kit(s) will be published on our website.
If you have lots of listings already on another website, we can automatically pull them over and keep them in sync - just get in touch.
Get student bookings
For kits, use your own courier or ours. With our courier, all your shipping labels and tracking will be automatically created and managed.
For classes, list specific dates and/or indicate times when you're generally available, for students to request from. You can easily accept or decline each request. This is a great way to get private group bookings.
Teach and earn
We'll pay once your customer has experienced your service, specifically: the next business day after each class, 7 days after the order, for pre-recorded videos, and 14 days after the order, for kits.
We only earn when you earn. 15% of your listing price is all we take (you keep the other 85%, and we'll take a lower commission rate if we process bookings that come from your website). No other fees apply, ever.
We use our commission to optimise and advertise your class, cover payment processing and donation costs, and to continue to improve our website features for teachers and students.
---
Looking to list your online classes or in-person workshops? Selling craft kits and looking for a better sales channel? ClassBento's got you covered.
We've got a leading platform and system for bookings management with classes and experiences, built by an experienced team that includes former leaders from THE ICONIC, Domain, GroupOn, and Booking.com.
Whether you want to sell just through our website, or on your own through a widget, or if you want to sell gift cards - we've got the right features to support you.
So host with one of the best online class platforms around - sign up or get in touch, we can't wait to work with you!